WELCOME TO THE WEBSITE OF
KK4TR
WORLD BROTHERHOOD THROUGH AMATEUR RADIO



INTRODUCTION


The purpose and design of this website is to assemble as much information on Radio Communications,Meteorology and Website building as may be useful to everyone.
This website has three princple divisions. Page One deals with the introduction,Table of Contents,Historical Biography of KK4TR,web searches and website building topics. Pages Two,Three and Five deal with Radio Communications and Page Four with Weather/Climatology topics.
It is my hope that you will find the site helpful. If there are some things left untreated that you wish to know more about, I would be extremely grateful if you give me your suggestion on how improvements can be made to make this site even more valuable to everyone.


TABLE of CONTENTS
PAGE ONE - Introduction,Table of contents,Webpage building links,Free gif,Backgrounds,Jpg's,Animation,Music on the site,Rate this Site,web searches,The Wall -All of these topics located at the bottom of this page.
PAGE TWO - Amateur radio,Radio resume,Dxing,Dxpeditions, Maps,Aurora,160 meter operation,OH2AQ packet cluster,CN8WW Dxpeditions 1999,KW ARC Homepage,100 years of Ham Radio, Club affiliations,Web rings,Antenna topics by W4RNL and others,3C0 Annobon Island Dxpedition 1999,www.eHam.net- Homepage,Solar Terrestrial Dispatch,GOLIST Qsl routes plus over 2000 Ham radio links.
PAGE THREE - Antenna Projects,KK4TR All Band Transmit/Receive"L" Antenna,Article on modification to the Dentron Clipperton "L" amplifier,Coming soon Homebrew 2 meter antenna made from an unlikely source,Links to other sites,Web search.
PAGE FOUR - Weather,Hurricane Tracking,Satalite Images,Records, Names, Damage archives,Doppler Radar,Lightning Fast Forecast,Tornadoes,WWOL,CASI,Club affiliations,Nexrad radar,Local & regional forcasts,100's of weather links.
PAGE FIVE - Shortwave,Longwave,Mediumwave,SWL,Pirate Radio,Shortwave schedules,Radio Station Grimeton,History of Telecommunications,Pioneers of Radio,Radio communications, AM Radio Web Ring(over 20 Links),Radio equipment photos and descriptions.






PAGE SIX - The KK4TR New and Used Amateur Radio,Computer,and Weather Instrument sales webpage. Many good deals on new and used equipment!






PAGE SEVEN - The KK4TR Antenna Mfg & Sales Website. Dipoles, Half Squares, Double Extended Zepps and G5RV antennas. Your virtual wire antenna store on-line. Stop in and browse. The assortment and variety will amaze you!!
*Click on page numbers above and go directly to website*
---
BIOGRAPHICAL HISTORY OF KK4TR
My interest in ham radio began with my father W9CJE, W1CBH and finally K4AYT.From 1948 until he became a silent key in 1976,he was an avid CW operator. That's where I got my first taste of Amateur Radio. In 1964 I was lucky enough to have him as teacher. With his help I became licensed as WN1CKF and then WA1CKF. Had it not been for his constant encouragement I might never have learned the Morse Code. Had it not been for that encouragement, I would not be here relating my interest and experience in the field of radio operation and experimentation.
I have also developed an interest in meteorolgy and weather observation. This interest is mainly due to the influence of Dr. Dewey Stowers at the University of South Florida. His knowledge and enthusiasm in the area of meteorology and geography can only be described as infectious. The good Dr. made a very dry subject interesting for his students. It's like a fellow student once said "When the weather forcasters have a problem or are confused about what's going on with the weather, they come to see Dr.Stowers and he straightens them out". Further into the web page there will be links to all sorts of weather information. There will also be some very interesting weather graphics you won't want to miss.
In addition there will be many articles related to antennas,new and old electronic theory,and some simple modifications to new and old gear which should prove interesting to everyone.
My present operating interests consist of chasing DX on CW/SSB/AM primarily on 160m thru 10 meters with a side order of local 2 meter activitity. I have always been interested in experimentation with antennas. Further down the web page KN4LF and I have provide some interesting information about a 160 m antenna that really works. The interesting part of the entire article is that you don't need alot of property to put up this antenna. I live in the city of Tampa and have found a way to get this antenna up and running. In case you haven't already guessed, this band is my present area of operation and experimentation. In addition to the 160m activity and experimentation, I design and build 2mtr antennas.They usually consist of multi- element yagis constructed of some unusual materials. Most of the principles that I use in constucting these antennas, lend themselves to construction and operation of HF band antennas. If you're interested in having a cheap and easily constructed 2mtr yagi antenna with good forward gain with excellent side and rear rejection, there will soon be constuction information available on this web site. My present station consists of a TS850Sat,Dentron Clipperton L Amplifier with a 3 Element TA33-M Mosley Yagi at 40 feet. In addition I have a Viking Valiant plate modulated AM/CW transmitter(circa 1955) matched with a National NC 300 reciever of about the same era. My Realistic HTX 242 2mtr FM Transciever which is used mainly for local ragchewing. The 2mtr rig is fed into one of my homebrew 6 el yagis (mentioned earlier) at about the 40ft level above my HF antenna. It can be seen in the picture at the top of the web page.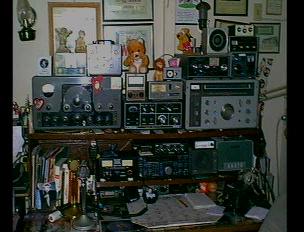 KK4TR

Click for Closer Look


As a side note I operated as F7DC in France from 1964-65 and was for a short period of time trustee of club radio station I1DFE a Aviano AB 1965-66. In late 1966 after spending a delightful summer at Ft. Riley Ks., I had the opportunty became a top notch operator of the US Army field radio PRC-10 (the one that had the bullseye painted on the back). During my stay at the "resort complex" of Chu Chi RVN (1966/67), I was always the center of attention. When I called "CQ DX" out in the "boonies", I always recieved an "unbelievable" responce. The only problem with that was the "DX PILE-UP" that usually followed wasn't the kind I was used to! It generally tended to become lethal to everyone near me!!

Another side benifit was that a license to operate was unnecessary. Just be big enough to carry all the batteries and related equipment to sustain yourself for extended operations(LRP's) in the field. I failed to mention that these radios had an effective operating range for of about 50 feet- your living room to your mail box give or take a few feet either way. Armed with this knowledge you can imagine who was answering my "CQ DX" calls! In 1968 I joined the US Air Force and spent nearly a year at Lowery AFB learning the finer points of aircraft attack radar and inertial navigation operation and repair.After Lowery AFB, I was stationed at Nellis AFB working on such aircraft as F-105's,F-4's and finally F-111A's. I didn't have much time for ham radio except for an occasional contact on the HF radios in the aircraft I happened to be working on.

During this time (1968) I changed my callsign to WB4PFY which I held for the next 20 years. In 1988 I upgraded my license to Amateur Advanced and changed my callsign to KK4TR. In 1974 I was employed by the Hillsborough County Sheriff's Office and after nearly 25 years I'll soon be up for retirement. All that means is I'll be working for someone else for a while! As I previously indicated this web site will be changing from time to time. Feel free to revisit anytime to take a look. The plan is to have some useful ham radio operating information in the "Favorite Links To Other Websites". Since I also have an interest in meteorology be sure to check out my links to weather and other related subjects.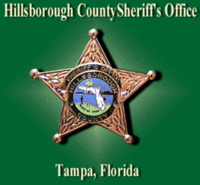 1974 - 2000
---
"MY FAVORITE LINKS"- The most comprehensive source of Radio,Weather,Website building information.
COMPLETE SOURCE OF INFORMATION ON ANTENNAS,PROPGATION,DXING,QSLING,OLD RADIOS,SWAP NETS,FCC BULLETINS,DX LOG SEARCHES & DXpeditions. VIRTUALLY ANYTHING TO DO WITH HAM RADIO IS HERE!
TAKE A LOOK AT THE "BEST" WEATHER SITE AROUND! LOCAL WEATHER STATISTICS,OBSERVATIONS,RADAR, AND A LOCAL FORCAST. SPECIALIZED RADAR LINKS EMPHASIZING SEVERE WEATHER, MANY LINKS TO OTHER WEATHER SITES..
THIS PAGE HAS SOMTHING FOR EVERYONE.SHORTWAVE,SWL,TV,VINTAGE AM RADIO,SWAP PAGES,RECEIVERS AND ALOT MORE!
Quick reference for transloading(FTP)with three new FTP sites, Camloading and an HTML viewer that allows you to see the HTML on that Page. Great site!!
AN EXCELLENT ANTENNA FOR HAMs AND SWL's. THE ANTENNA CAN BE DOWN SIZED AND USED ON ANY SWL OR HAM BAND. THE OPERATING PRINCIPLES REMAIN THE SAME. IT's WORTH A LOOK!!
Free ham radio clip art - animated as well as static - Excellent place to start.
This site containes the latest tools needed to build not just a good web site but a gret one!! New things added all the time.
Want to know the difference between a good web site and a great one? Check in here and you'll know almost "everything" you need to know!
Lots of good visual effects and the istructions on how to make them work on your site.
Another excellent site for gifs,logos,jpgs and buttons. Site also has instructions on how to use them.
Excellent source of music background for the website.
This site will assist webtv user building a web page. This site is loaded with good info.
Unlimited info on linking and searching the web for anythng you can think of.
URL Adding site that will add your site to 34 search engines all in on place
Another excellent source of graphics for your website
Jokes,Games,Weather,Autos,Chat,Kids Games and much more.This is a good place to start.
A must for the webtv user. This site is also compatible with other computer users.
Great Selection of Beatle Music form the ABBEY ROAD Album
More Ham Radio Clip art and gifs from KG0ZZ!
Lots of advice & goodies for web page design. 400 buttons,arrows,lines,and graphics. Cool things like clocks,counters,and pop-ups are all here contained in this site.
More than 150 anmated gifs to use on your website. Flipping,rotating,pulsating words,throbin heart,spnning soccer balls,and lots more!!
No description is necessary. You know Art and the controversial guests and topics he deals with. ENJOY!!
See live video cam shots dispalyed in real time from many different parts of the USA. This site is probably one of the best of it's type anywhere. If you're into webcams this is the place!!!
The information contained in this site has significance to everyone in this country. I have one cousin and a least one other high school friend who's names appear on this memorial.
---
---
| | |
| --- | --- |
| 24th Infantry 1966 | 25th Infantry 1966/67 |


Ft. Riley Ks 1966 - Chu Chi RVN 1966/67
"We Haul'em, You Maul'em"
Thanks to the 25th Aviation Batallion
---
Sign My Guestbook
View My Guestbook

Joseph Dube
Webmaster
jdube@peoplepc.com
830 Darby Lane
Brooksville, Fl., 34601
United States
You Have Visited KK4TR's Homepage
Times, Thanks

---
---
---
---
| | | | | |
| --- | --- | --- | --- | --- |
| Search for the Album or Artist of Your Choice! | | | | |